See how an NFL fan created the ultimate tailgate terrace with a two-story outdoor living space using Trex RainEscape.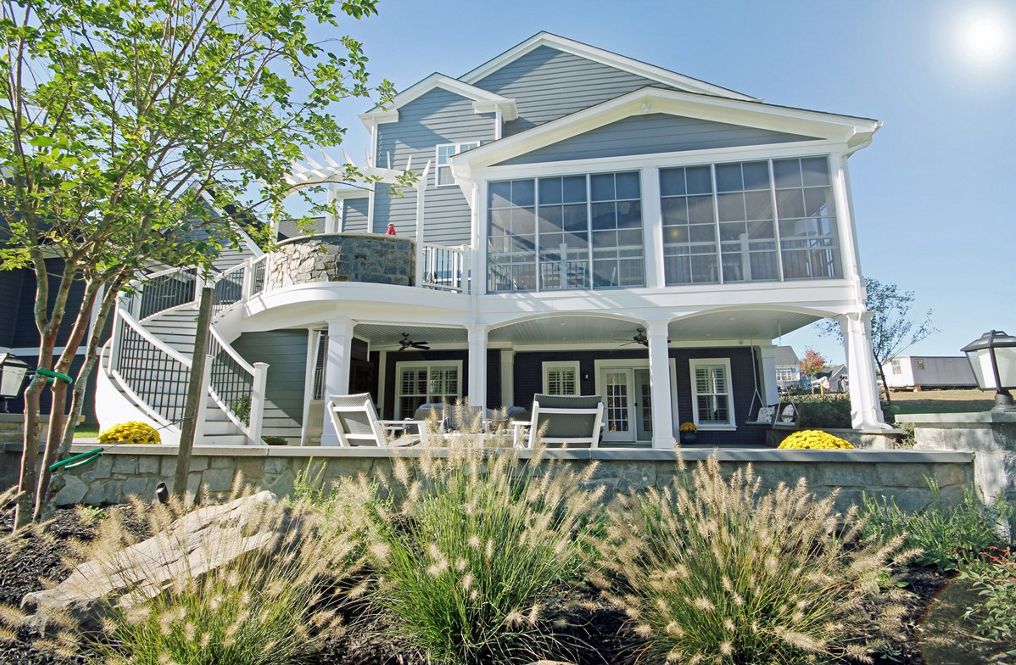 The NFL boasts some of the most passionate sports fans in the world. However, as the COVID-19 pandemic has called a time out on live sporting events, fans are finding new ways to root for their favorite teams and relive iconic games from home while socially distancing outdoors. After a Baltimore Ravens fan watched a game from the comfort of a friend's covered outdoor patio, he knew an under-deck drainage system was a must-have for his house.
Bobby Poore of Highland, Md., turned to the area experts at ProBuilt Construction, Inc. to craft and construct the two-story tailgating terrace of his dreams. Owner Ed Pacylowski, a TrexPro Platinum contractor with more than 40 years of experience, personally oversaw the project.
"Mr. Poore had a clear vision of what he wanted for his two-story outdoor living space," said Pacylowski. "On the upper level, he sought an enclosed porch with an interior feel along with outdoor space for grilling and gathering. Below the deck, he envisioned an outdoor viewing oasis complete with a wide-screen TV, comfortable furnishings and heaters for year-round use."
To bring Poore's vision to life, the ProBuilt team utilized the innovative under-deck drainage system Trex® RainEscape®. Using a network of troughs and gutters, the system captures and diverts water away from the deck and the substructure allowing homeowners to virtually double their outdoor space by protecting the area below the deck from rain, sun and other elements. Once protected, the dry space beneath the deck can be used for storage or as additional living space and outfitted with everything from furniture and decorative accessories to lighting fixtures, ceiling fans, gas lines and entertainment components.
Unlike other drainage systems that get installed below the joists of the deck foundation, the RainEscape system is applied over the joists before the deck boards are installed to shield the entire foundation from moisture penetration and deterioration.
"Trex RainEscape is a nominal upgrade that adds tremendous protection, value and enjoyment to a home's outdoor space," said Pacylowski. "The majority of our customers with walk-out basements opt to add it to their projects. Even if they don't decide to use the space below as a patio or for storage, the added protection it provides to the deck substructure ensures greater longevity and peace of mind."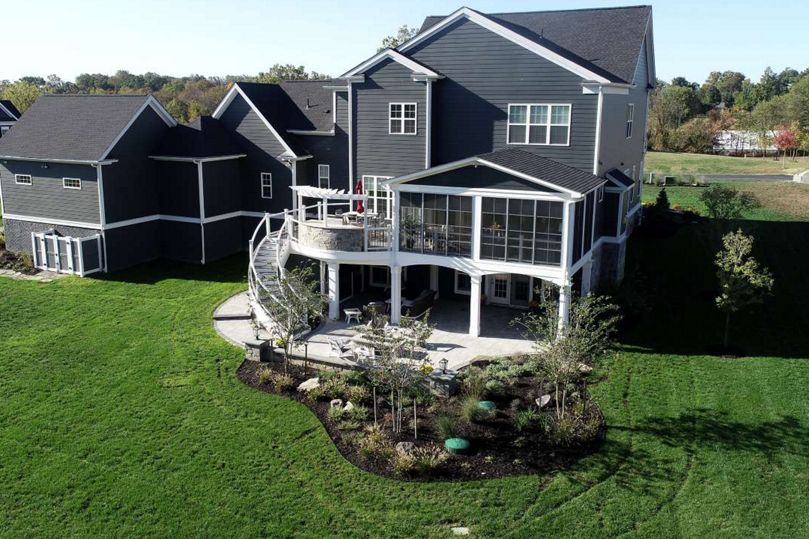 Upper Level
For the upper level decking material, Poore chose Trex Transcend® in Island Mist. This top-of-the-line composite pairs a natural wood-grain pattern with rich color and realistic streaking that delivers the look of wood without the hassles of ongoing maintenance.
Like all Trex decking, Transcend is made with 95% recycled materials and incredibly durable. The high-performance composite material features a proprietary shell that resists fading, staining, scratching and mold, and can withstand any weather Mother Nature sends its way. Unlike wood, it won't rot, warp, crack or splinter, and it requires no sanding, painting or sealing. Food and drink spills can be easily cleaned up with soap and water to retain a like-new appearance. And the RainEscape system provides the perfect "assist" by catching any party fouls so they don't end up spilling onto anyone who may be below deck.
Seamlessly integrated along the border of the second-story deck is Transcend railing. Traditional white posts and frames are paired with black round balusters to optimize the surrounding views. Trex® OutdoorLighting™ is discretely integrated into railing post caps and stair risers, enhancing both the ambiance and safety of the outdoor space. The weather-proof LED fixtures use 75% less energy than incandescent components and are cool to the touch, making them safe for children and pets. 
Other highlights of the upper level include an enclosed three-season room along with a curved built-in grilling station surrounded by stone and covered with a handsome pergola in white to complement the railings and house trim. An elegant curved staircase leads to the lawn and patio area below creating synergy between the upper and lower areas. "It adds more than just curb appeal," noted Pacylowski. "We like to call it curve appeal!"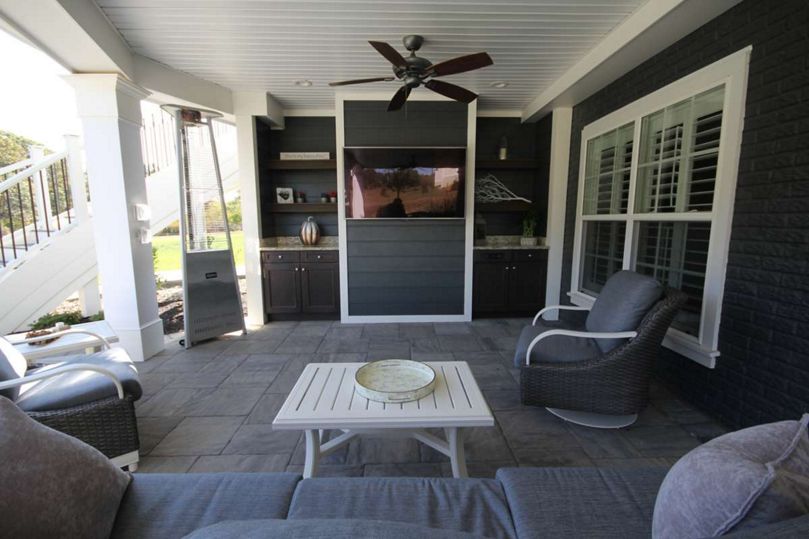 Lower Level
Upon descending the staircase from the upper level, the transformational impact of the RainEscape system is unquestionable. The dry space the system creates beneath the deck area allows for wiring to power a number of electronic components essential for a watch party. In this case, the space is equipped with a television, speakers, low-voltage lighting, multiple ceiling fans and a heating tower. The wiring for all of these components is hidden between the deck surface and a decorative soffit ceiling. In addition to giving the space a finished look the ceiling also helps to prevent birds, squirrels, spiders and other animals and insects from nesting in and causing damage to the deck frame.
As an added bonus, a portion of the area below the deck is designated as a walk-in storage space, completely protected from the elements thanks to RainEscape. The Poores utilize this auxiliary space for storing lawn equipment, gardening tools and other outdoor essentials.
"We couldn't be happier with how our outdoor space turned out," added Poore. "We spend as much time out there as possible and I love being able to watch my Ravens outdoors – rain or shine!"