Building a deck around trees can provide a unique space to relax, unwind, and entertain. When starting a deck project, you may be wondering how to incorporate trees into your plan. Read more to learn how to build a deck around a tree.SHARE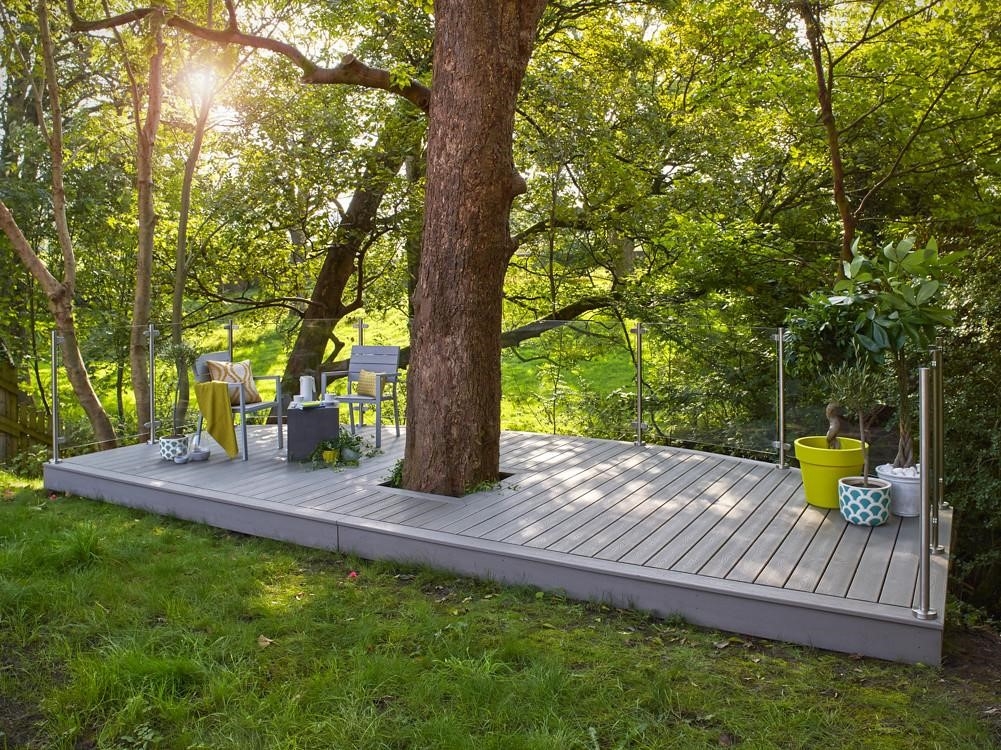 When you look out to your backyard, you see the potential for a beautiful deck where you can entertain friends and family and enjoy fresh air and sunshine. However, that lovely old oak tree gives you pause. It's right in the middle of the perfect spot to build your deck. You don't want to cut it down, but you continue to think about how a deck might be possible.
You may wonder, "Can I build a deck around a tree?"
Yes! While this may seem like an unusual plan, it's often done, especially at outdoor venues, such as public parks. A deck built around a tree does require some extra planning, but offers a number of benefits, including enjoying a more natural aesthetic, promoting an environmentally friendly space, and creating a more elevated design. Trees also offer lovely shade where you can relax, unwind and entertain.
Before you begin to build, however, consider these 5 important elements.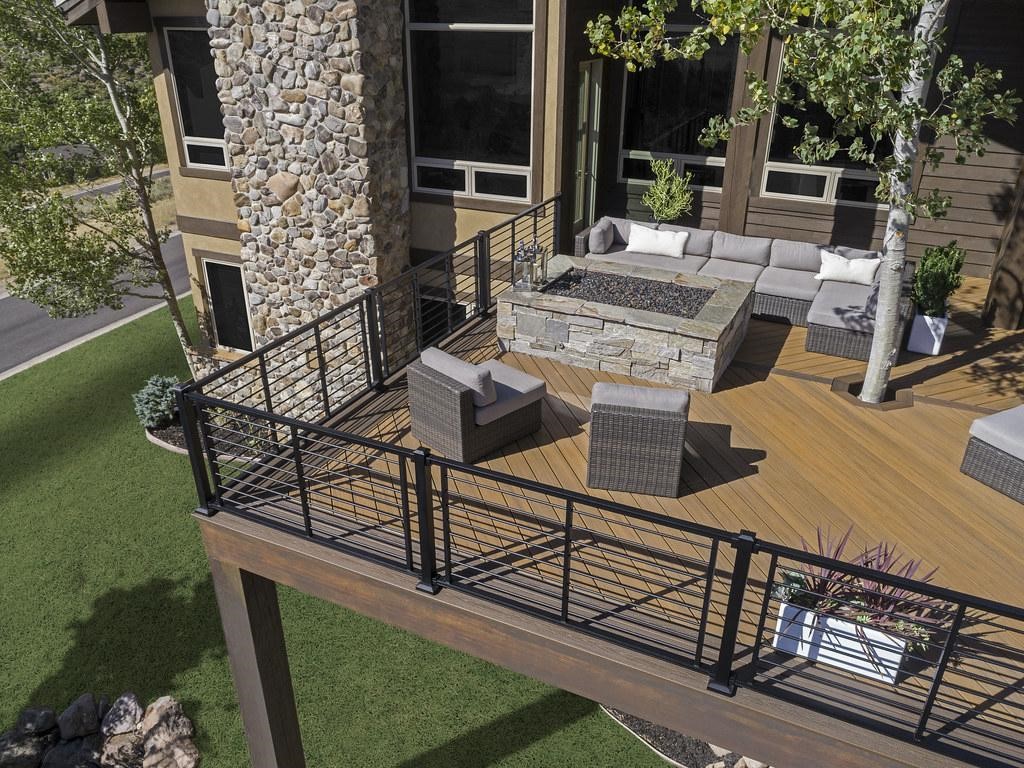 What to Consider Before Building a Deck Around a Tree
1. First consider your landscape. What size will the deck be and how will a tree affect the placement of post holes and beams, both of which are vital to a safe structure?
2. Next, look at the tree or trees to be included. Are you building around one tree or multiples, which would be much more difficult? What kind of tree is it? Some trees are more problematic than others, especially when it comes to their root systems. Will you need to be endlessly sweeping and cleaning the deck due to the tree's produce? Make sure leaves do not accumulate on or between your deck boards, where they may trap moisture and cause wood rot.
3. Keep check on pests. Some trees are more likely than others to attract wood pests. Regularly inspect for wood wasps, boring insects, or other pests.
4. Count the costs. What design and material changes will need to be made to your deck and how might that add to the cost of the project? Will the deck need to be larger to accommodate your outdoor living needs? Consider the furnishings and utilities you need — like room for a grill, outdoor dining or a hammock — and how the tree will impact your design.
5. Finally, understand the growth trajectory of the tree. Make sure you leave space for the tree to grow. How close can a deck be to a tree? Leave at least 3 to 5 inches all around the tree. If it's a tree that grows quickly and is likely to have limbs break, you'll need to have a tree expert regularly check it for any pruning needs.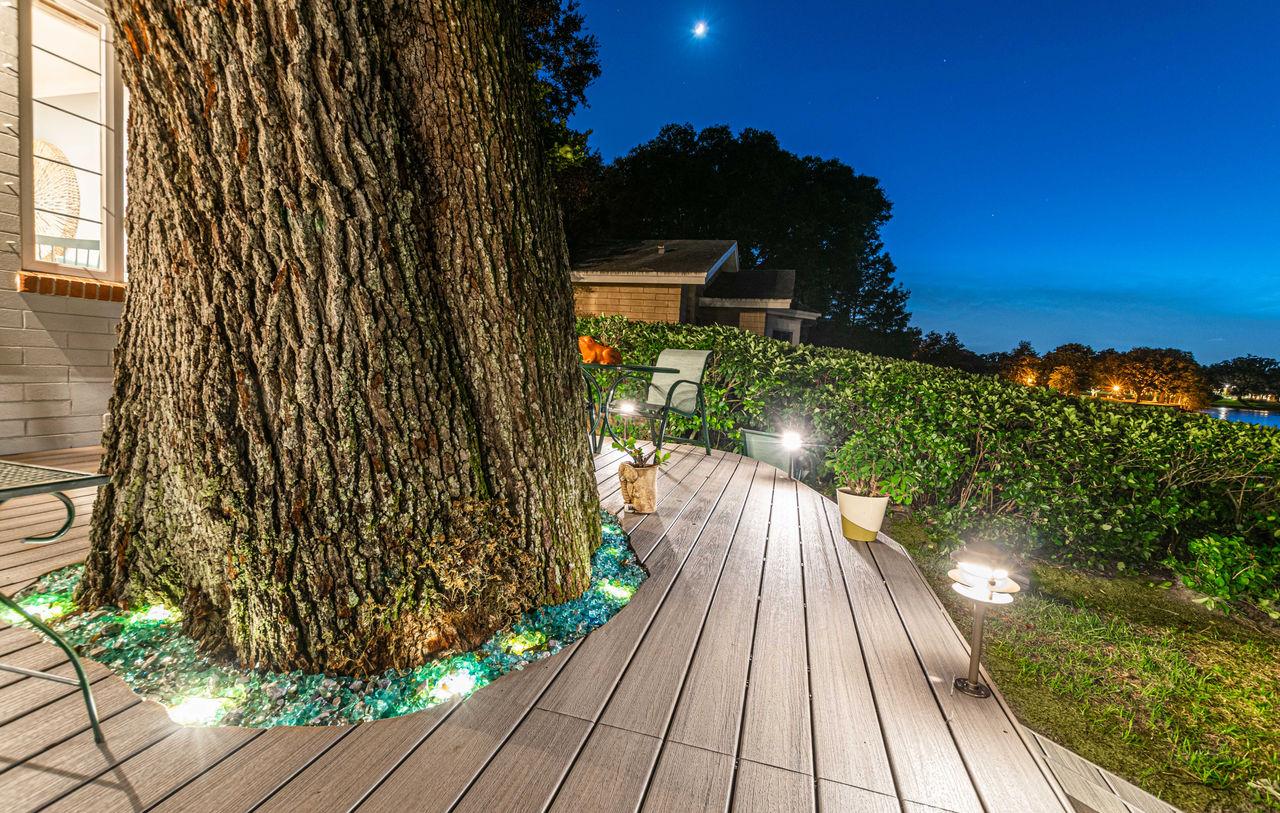 What to Consider
As you plan your deck build, you will need to decide whether to do it yourself (DIY) or hire a builder.
In addition to tools and fasteners, you'll need pressure-treated boards to build the deck substructure, as well as decking boards for the surface of the deck. The decking boards and railings will be the most visible part of the deck, and also the area that will receive the most wear and tear. Consider the costs of wood versus composite decking boards. While wood may be a bit less expensive up front, count the long-term costs of maintenance required when staining the wood every two years. Unless you enjoy staining a deck, you might appreciate the small investment it takes to create a deck that's low in maintenance hassle.
Before building, peruse online galleries for ideas or talk to a deck builder. When considering how a tree growing through the deck may affect the tree or the deck, you may want to even talk to a local arborist. Ask what might happen if the tree begins to die and how to best protect the tree from damage.
PERMITS
Any deck that is built 30 inches or more off the ground will need a building permit. When building a floating deck around a tree, you may not need a permit based on the height off the ground, but always check with your local permit office to be sure.
Permits range in price based on the size of your project and your locality. Talk to your local municipality's building department for more details if you're going to DIY a deck. If you are planning to hire a contractor, they will likely secure the permit for you.
SIZE & SHAPE OF YOUR TREES
As mentioned above, the size and shape of your tree will play an important factor in planning your deck project. A single tree will be simpler than multiple trees. Be sure to consider the current size of the tree and its growth trajectory, its age and the propensity of its root system to sprawl.
DECK SIZE & SHAPE
In all deck projects, the size and shape of the deck will impact the overall cost. The larger the deck, the more materials and substructure needed. You can get an idea of what you'll need to spend by using a cost calculator.
RAILINGS
Don't forget the railings as you plan your new deck. Any deck over 30 inches will need to have railings and follow building code. Railings serve an important safety purpose, but can also add to the beauty of your deck.