While a kitchen is often considered the heart of an indoor living space, an outdoor kitchen can provide the ideal area for entertaining guests or relaxing with family. Easy access to amenities can make an outdoor gathering area more functional, and it can also add to the value of your home in the process. However, there are several things to consider when building an outdoor kitchen, including location, climate, material selection, finding weatherproof décor and furniture, and much more.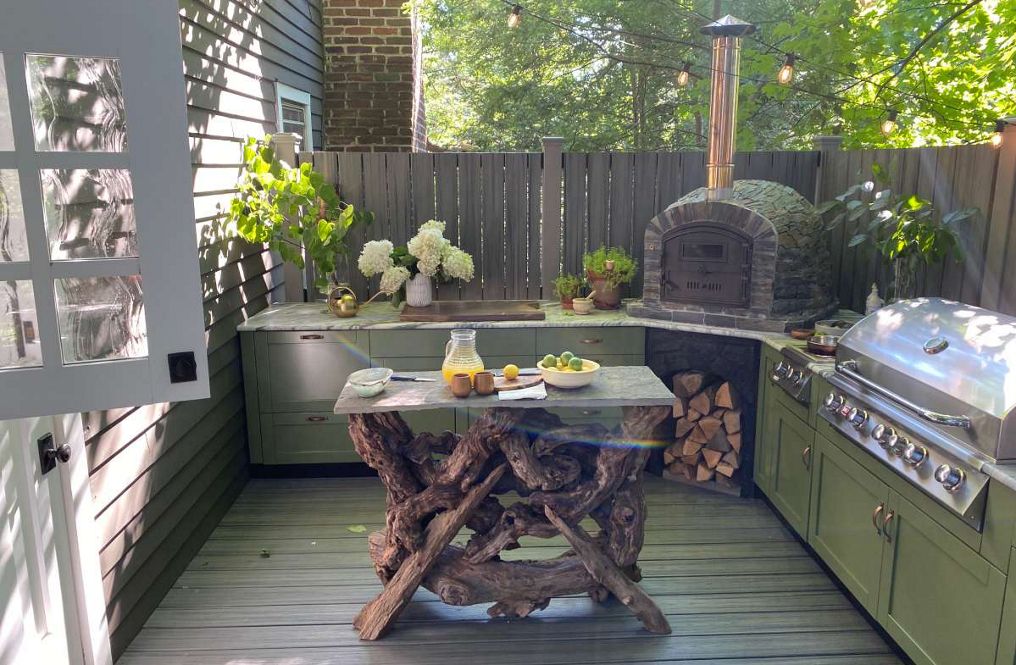 Homeowners with the appropriate skills can often complete building an outdoor kitchen on their own. However, if you're not ready to run electrical wiring or water pipes, it may be worth finding a contractor with the experience necessary to make your dream kitchen a reality. Here are several things to consider before building the outdoor kitchen of your dreams.
Determine Your Budget to Build an Outdoor Kitchen
Building an outdoor kitchen involves a ton of customizable elements, which can make planning a budget more challenging. The cost to build an outdoor kitchen can be affected by material selection, the size of the area, the necessity of appliances, permits — and more. That's why it's important to start defining your budget long before you start to buy materials.
Obtain the Permits Needed
Many homeowners often find themselves asking, "Do I need a permit to build an outdoor kitchen?" And the answer is: it depends. If you don't want to add a roof, and if you don't need electrical or plumbing work then you most likely won't need a permit. Otherwise, it's very likely you will require a permit to build your outdoor kitchen. You may also need to follow state and local requirements with respect to framing grills and fireplaces.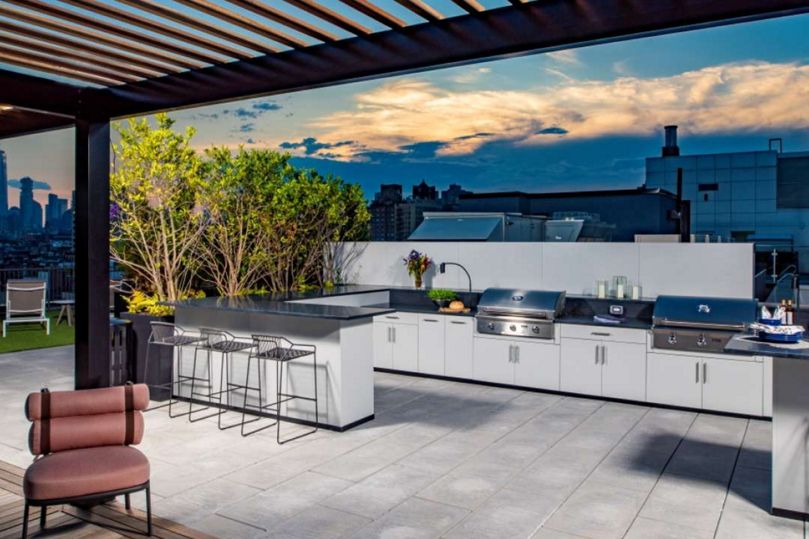 Cabinet Materials
There are quite a few options for materials to use for an outdoor kitchen. Your material selection will have a big impact on style, function, and cost. It's especially important to select materials that are appropriate for your climate. Even minor amounts of material expansion or contraction can interfere with sliding doors and hinges, and most materials are vulnerable to drastic fluctuations in temperature.
That's why powder-coated stainless steel like Trex outdoor kitchen cabinetry is usually your best option for building an outdoor kitchen in areas where weather might be a concern. Apart from holding up well to the elements, stainless steel can withstand a variety of chemical interactions, which is one of the reasons it's so popular in commercial kitchens.
Design and Layout
The outdoor kitchen design you choose should complement your space from both an aesthetic and functional standpoint. For example, while designing an outdoor kitchen layout, you might want the location to have minimal exposure to elements. Yet, beyond location and style, outdoor kitchen designs should incorporate a variety of considerations:
Determining Size
The size of the kitchen area will help determine the shape of the kitchen, and how each part relates to its surroundings. Do you want your outdoor kitchen to take up a small portion of your deck and still have room for a lounge area or another type of section? Or do you like the idea of a sprawling outdoor kitchen that spans the entirety of your deck, made with entertaining and cooking for your guests in mind? If you have ample space to build a larger outdoor kitchen, it's much easier to incorporate islands, built-in grills, and other functional features. On the flipside, working in tight spaces can often require more planning. (In either circumstance, Trex has cabinets appropriate for outdoor kitchens of virtually any size.)
Maximizing Space
Once you have a good idea regarding the size of your kitchen space, you'll want to plan the shape of your kitchen, which can be one of the most important stages of planning outdoor kitchen designs. In order to figure out how to best maximize your space, you may ask the following questions?
How much counter space do you have?
Where is that space in relation to appliances or utilities?
Where are the hot, wet, cold, and dry zones?
How many people do you need to accommodate?
What direction do you want to face while interacting with guests?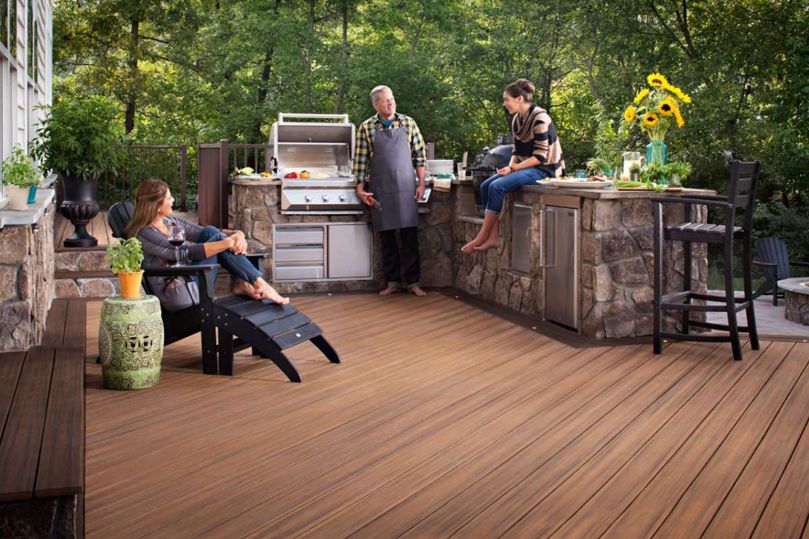 Lighting and Appliances
A small outdoor refrigerator can keep condiments cool, power burners make heating quick, and some people simply believe grills are essential. You can choose between a variety of appliances to make the most of your kitchen space, as long as they're designed to withstand outdoor conditions. Weatherproofing is particularly important for exploring your lighting options and arriving at a choice that best suits your needs.
Ensuring Proper Ventiliation Between Appliances
To allow for ventilation, you should leave about 1"-2" of space around the top and bottom of cabinetry, as well as between appliances. For appliances, poor ventilation can lead to higher energy consumption, increased risk of fire, maintenance difficulties, and shortened lifespan. The recommended size of these spaces may also be specified by the manufacturer of your appliances, but is usually around 1"-2".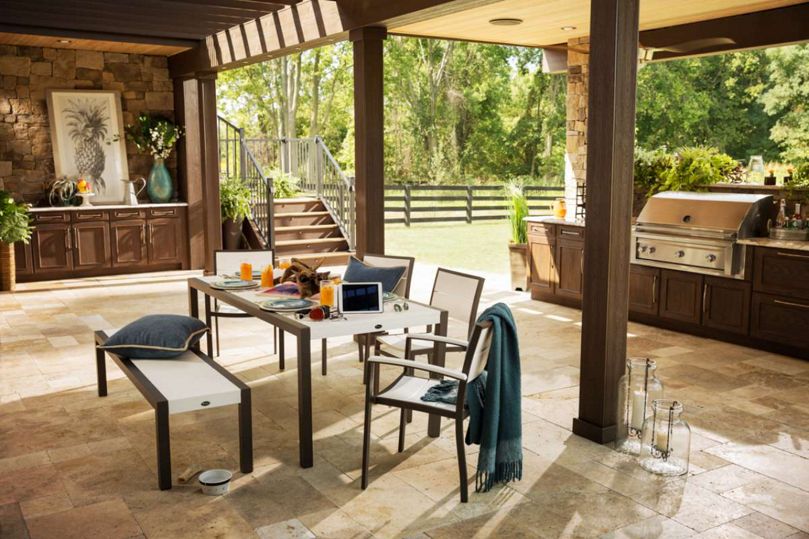 Sun Protection
Shade provides some protection from the heat of the sun, which can make spending time in the kitchen area far more pleasant. It can also improve the lifespan of outdoor appliances. And there are many ways to add shade, from something as simple and striking as a pergola, to something as complex as partially enclosing the kitchen area.
Using Color to Enhance Your Space
As with other areas of your home, color can define the style of your kitchen. While choosing the right colors for your outdoor kitchen involves complementing its style and working with your home's current aesthetic, it's mostly about matching your preferences. That's why Trex outdoor kitchens are built in a fairly extensive range of colors and powder-coated finishes.
Delivery and Installation
Homeowners who want to take a DIY approach may find that an outdoor kitchen installation isn't much easier than they'd expect. In fact, Trex kitchens are designed specifically for ease of installation. However, if you're not quite confident in installing your outdoor kitchen yourself, you can always consider the option of going with a professional installation. Outdoor kitchen installation is usually a fairly inexpensive project, and relying on an expert can keep your installation clear from unexpected difficulties.
Maintenance and Care
The level of outdoor kitchen care maintenance required will mostly depend on your material selection. For stainless steel surfaces, you'll want to avoid cutting directly on the surface, and most messes only call for a mild all-purpose cleaner. In any case, routine upkeep requires countertops wiped down, and a stiff brush used to clear-away the tops of grills.
Depending on the climate of the area where you live, it may be necessary to winterize your outdoor kitchen, covering countertops to protect from ice and snow. It's also considered best practice to cover grills when they're idle.
If you're planning on incorporating an outdoor kitchen into your deck design, be sure to keep these factors in mind. Having a clearer picture of the type of space you want, along with any features you may have your heart set on, can help you better budget for your outdoor kitchen and make for a smoother installation process.